2011 年 高野山でラマ様のお写真を撮ったときに出会った、龍心さんという方にご説明いただいたメールを探しだしてきた。
I happened to meet his holiness the 14 th Dalai Lama on Mt. Koya in 2011. It was fantastic experience when he smiled to me ;) !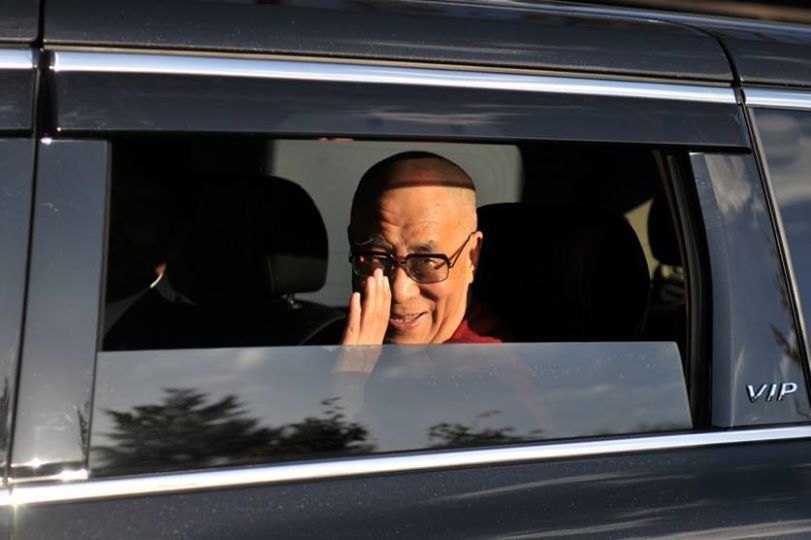 龍心さんという方にご説明いただいたメールを探しだしてきた。
I found the mail from Ryushin ( dragon-heart)  who gave me ticket for his holiness the 14th Dlai Lama's teaching.
I happened to meet Ryushin at Izakaya on Mt. Koya.
(ラマ様のお話を聞きたかったけど、チケットなくって、、というときに偶然出会っておかげさまでお話を聞くことができました♥)
Ryushin said
「砂絵じゃなくて、砂曼荼羅(マンダラ)ですね。
あれを描くにも修行が要りますし、チベットでは僧侶になる条件にもなっています。
日本で今掛け軸になっているマンダラの源流があの砂マンダラです。
" It's a "SAND MANDALA". You need to practice to become monks in Tibet.
あのマンダラは(注:2011年高野山で描いていたものです)この灌頂のためにチベットの僧侶達が五日間かけて描いたものです。
They draw SAND MANDALA for 5 days "Kanjo ceremony"  in 2011 on Mt. Koya.
本来なら儀式の最後に法王が砂を崩されるのですが、今回は高野山に資料として残すため例外的にそのままにしておくそうです。
Originally His holiness the 14th Dalai Lama would break it at the end of the ceremony but they kept the result for the reference at Mt. Koya.
意味合いとしては仏の世界(心)も我々の世界(心)も本来は同じものでその有り様(ありよう)によって違って見えているだけである。あの美しいマンダラも全ての砂を混ぜ合わせてしまえばただの土色に固まりになる。といったことをあらわしています。
It's one thing "The world (Heart) of Buddha" and "Our world( Heart)". It looks different when it has different forms for different occasions .
The sand mandala will be "a lump of the sand's colour " when he mixes all the sand in MANDALA.
夢については灌頂の初日に草を配られてそれを敷いて寝たときに見た夢でどんなことがどのように成就するかわかるという夢占いのようなもので特に色を覚えておいてくださいといわれたのですが二日目その説明がなかったので質問されたんでしょう。
About the dream, we were told that we need to remember the colour of the dreams when we slept with the plant underneath the pillows.
It's like a divination through the interpretation of dreams.
そもそも密教では行の中で夢を非常に重んじる傾向があります。夢占いや星占いはほぼ密教がルーツになっていますよ。
Esoteric Buddhism is the roots of the astology and the oneiromacy. They really respect the meaning of the dreams when they practice. "
龍心拝」
この世界は心の現れであり
夢を癒すことによって(ex 「君の名は。」も夢のお話。)
今も、現実も、未来も癒されて変化していく、、
ということがすごくふに落ちた:)
This world is made of our dreams, our hearts. ( "KIMI NO NAWA" is also the tale of dreams)
When we heal ourselves in our dreams, "NOW ", "THEN", and "FUTURE" will be healed and changed for our better days.