名前のない島で
Jといろんな話をしたなかで、よく覚えているのはハリケーンとタトゥのこと。
One of the stories I heard from J on Noname island were about the hurricane and his tattoos.
「この辺りに、数年前ハリケーンが来たときは本当に大変だったんだ、、、直撃することは少ないけれど。
"We had really big hurricane couple of years ago… It was big disaster. "
"It's rare… but it hit directly."
そうなるとキー島の住人たちは、みんなで肩をよせあい、どこか鉄筋の家に集まり避難する。島の人が暮らす家は、大半は木造でハリケーンが来るとなすすべもなく吹き飛ばされてしまうんだ。
"We evacuated in concrete houses, leaned on each other, most houses in "CAYE" used to be a wooden house. There was no choice, otherwise they might be blown away. "
お互いがお互いを助け合う。
"We helped each other.
We are ONE BIG FAMILY." J said and looked into the distant blue.
みんながひとつの大きな家族みたいなものだから」J は遠くを見つめて言う。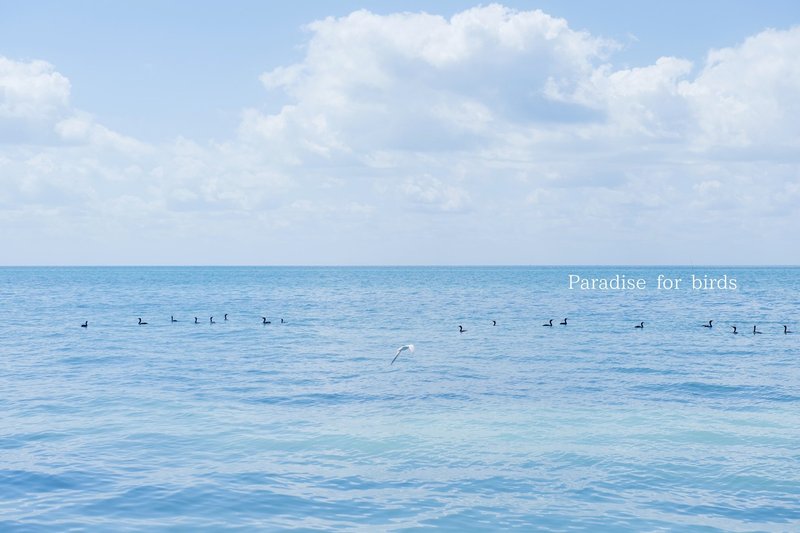 「ダイビングはいい。」
「あまり泳ぎまわるより、海の底でただ座ってじっと魚の動きを見ているのが好きなんだ。
じっと一カ所にとどまって、ただ海の底にいる。ただそこにいて、世界を観察する。」
「レスキューダイバー(ライセンス)は取っておいたほうがいいよ。」忠告するように彼は言う。
" I love diving."
"Stay still under water… just watch fish swimming around me…sitting on the rock, watching fish moving around "
"Just be there…observing the the world going by. "
"It's good to have rescue diver (licence)." he said.
彼の背中には、友人を偲んでいれたというイエス・キリストのタトゥがあり、こちらを見つめ返してくる。
誰か助けられなかった友達がいたのだろうか?
後になってふと、彼の背中のタトゥを思い出す。
Tattoo on his back is staring back to me…It's remembrance of his friends.
The face of Jesus.
I wonder who were his lost friends.
The sweat (or tears?) on eyes of Jesus' tattoo on J's back reflected in the sunlight.
Later on,
I suddenly remembered J's tattoo on his back
…out of nowhere.
タトゥが、背中の汗と一緒に太陽の光に反射している。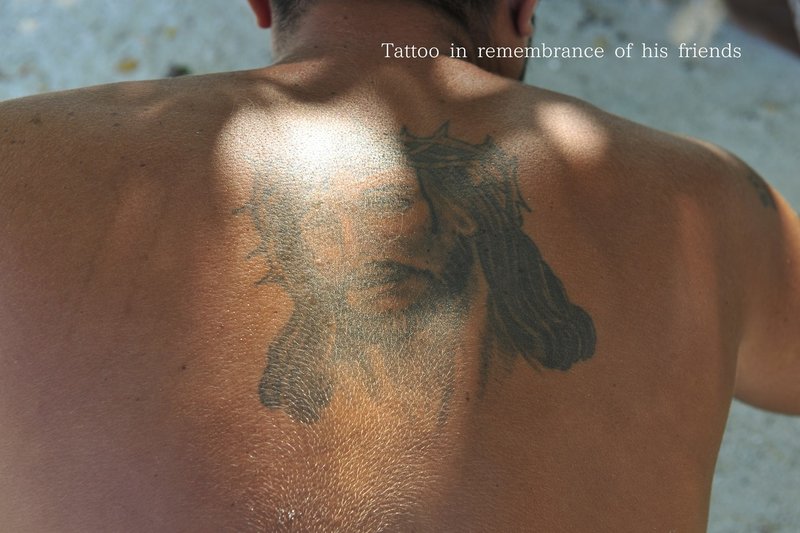 なにか大切なものを覚えておくように、思い出すように、メッセージを放つようにキラリと輝く。
Remember something important, think it again, keep it real…messages from Jesus' eyes sparkled on his back.
JAH BLESS US ALL.
JAH が私たちを導き癒してくれる。
後悔から学ぶこともあると、人はいうけれど。
今できることを、今ここでする、シンプルな真実。
Someone said to me…We should learn from our regrets.
Only We can choose as simple "TRUTH" is
"DO IT NOW, DO IT HERE AND NOW".
大事な部分を癒すように、太陽の暖かな光がハートを包みこむ。
穏やかな風が、彼の言葉の隙間の言葉にならない悲しみや後悔をそっと伝えてくる。
友よ、パラダイスで永遠に休んでほしい。
"REST IN PARADISE"
愛情に包まれた安らかな場所で、失われてしまったものもふくめて、すべてがそこに永遠にあるような、名前のない島の平和な午後。
The warm sun light embraced hole of our hearts to heal important truth.
The calm wind told us his untold sorrows and regrets.
Rest in Paradise, our friends.
Nothing has lost, Everything is always here forever.
On our peaceful, PERFECT sunny afternoon on Noname island.
いないものも、そこにある。
不在の存在。
We can meet someone lost here.
I could see absence.
I saw someone who I've lost.
We are not in the same part of the Earth now, but We used to hang around together … Soulmate of "US".
We had lots adventures in Paradise Earth together.
We laugh,drink, listen to the music, and travel together… the fellowship on the road.
We share precious time together.
いまは はなればなれ
地球上の別々の場所にいるソウルメイトたちのことを思い出す。
一緒にたくさんの冒険をした。
ともに笑い、音楽を聞き、旅をした、
旅の仲間。
大切な時間を共に過ごした友達。
いまは別々の場所にあるソウルメイト。
いないものも、そこにある。
この島には、そういう魔法の力が存在する。
We encountered for lost friends.
There was something…the presence of absence.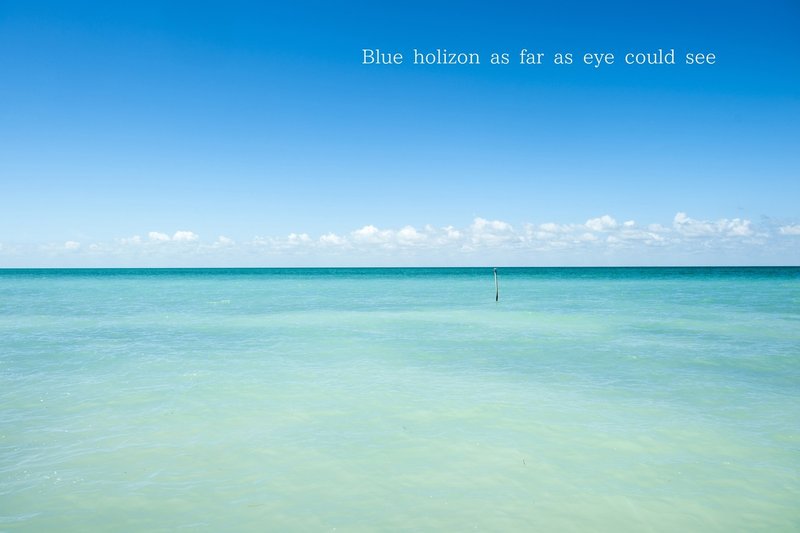 この名前のない島を守る彼は、水平線に何を見つめているのだろう?
The guardian of the island…I wondered what he saw over the horizon.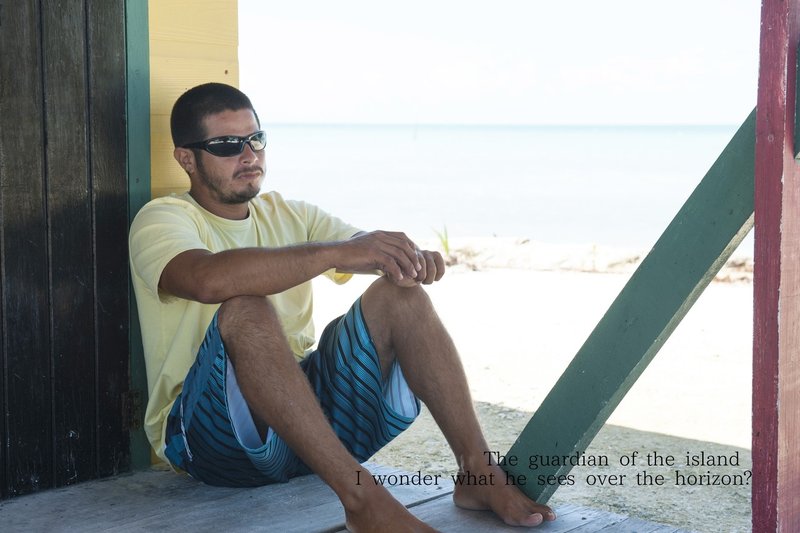 REST IN PARADISE with MUSIC NAOKI!1972/03/11-2020/2/12
MAY THE GOOD ENERGY BE WITH YOU FOREVER…
This chapter is dedicated to Naoki ( I re-write after his death…)
この章は飯島さんの死のニュースの後追記しました。彼に捧げます。
LIGHT WE SHARE  http://relaxmaxontheroad.com/light-we-share/