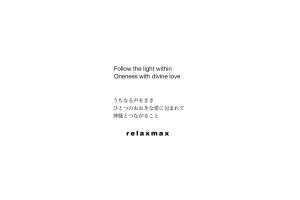 :::::::
This poem came to me just like heaven sent gifts
when I was creating self published HANDMADE BOOK "Follow the light within" in 2014.
Following the light within
I found the god in the nature…
it's the reflection of our inner light.
This is the medicine
for healing your soul…
realization of the light within us
as well as portrait of the Earth.
The Sun and the moon
Path of the Light
Blessing of the rainbow
Dragons, Quanin, Buddah, Maria, Angels…
When our souls are healed,
the Earth will be healed too.
Because it's a reflection of the beauty in our soul.
I wish our inner light will shine the future Earth.
:::::::
I create this series "Follow the light within"
http://relaxmaxontheroad.com/#divine-light
I was just FOLLOWING MY INNER LIGHT
Drawing with MY Camera!
I always connect with divine nature then press the shutter bottom
to catch something I felt in the nature.
"Nice feeling" "Healing Force" " Positive Energy" "Dignity"
I caught what I felt directly onto my photographs.
Collecting
Miracles in the nature
Eternity
Moment of beauty
I am a catcher of MIRACLES :)
My inner light attract miracles on my photographs,
Photos into POEMs, then going onto small essays…
Just like dew to the river to the Sea…
:::::::
FOLLOW THE LIGHT WITHIN
ONENESS WITH DIVINE LOVE
うちなる声をきき
おおきなひとつの愛に包まれて
神様とつながること
:::::::
この詩は
2014年にそれまでに撮りためた自然の写真作品をまとめて
一冊の私家製本を作ろうとしていた時におりた言葉
:::::::
:::::::
心の中にある光をおいかけて
たどり着いた聖地

時間も空間も超えてある光
太陽と月の通り道
虹の祝福 龍神さま、観音様、マリアさま、天使たち、、 、
外側の世界にある光と
私達の内側にある光は
実はひとつのものだと気がついた
目に映るすべてのものは、人間の本質は光の存在だと思い出させてくれる
昔から人々は自然の中に神様たちを見いだしてきた
その神様たちは、私達の心のなかにある光のリフレクション♥
写真を見た人々が
それぞれの内側にある神聖さ、内なる神、光のありかを思い出し
地球を明るく照らし、未来を再創造して行く
:::::::
:::::::
"Follow the light within"
JUST FOLLOWING MY INNER LIGHT
http://relaxmaxontheroad.com/#divine-light
カメラと光でお絵かきするように、
永遠の中、奇跡を捕まえる。
神様とつながり「ひとつになる」こと
「気持ちいい」「癒し」「POSITIVE ENERGY」「威厳」
そういう感じたものが
そのまま写真に写っている。
真実。
うちなる声を聞いてできた写真作品から、この短い詩がおりて、文章として結実。
雫が、やがて川となり、海へと続いて行くように。。。